PVC coated wire mesh for safety fence Barbed wire is used to construct safety fences for livestock, private areas, industrial areas, warehouses or sensitive places, and to construct barriers for military fortifications.
We can not only provide galvanized barbed wire, but also PVC coated barbed wire for safety and protection.
PVC coating refers to wires covered with vinyl. The PVC layer not only has a positive effect on the strength and toughness of the material, but also reduces the risk of rust. It can also reduce the wear between layers during operation. PVC coated barbed wire is an ideal type for marine engineering, irrigation machinery and large excavators.
Our PVC coated wire mesh consists of 2 twisted pairs and 4 spikes, separated by 65 mm-120 mm from each other.
Specification:
Polymer coating (green RAL 6005).Inner wire: galvanized wire.
PVC coating thickness: 0.4 mm-0.6 mm. Stranded
wire diameter:Inner wire diameter: 1.6 mm-3.5 mm. Outer wire diameter: 2.0 mm-4.0 mm.
Barbed wire diameter: 1.5 mm-3.0 mm.
Packing: 50 m, 100 m, 250 m, 400 m/roll or 30-50 kg/roll.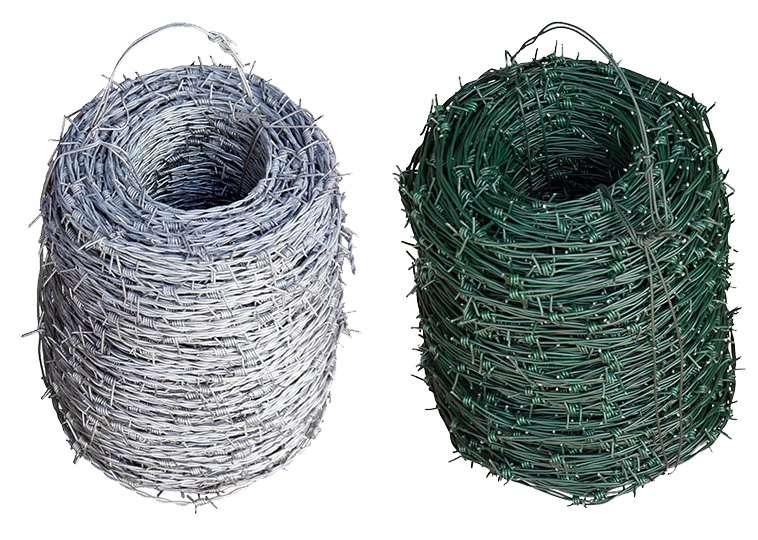 OUR COMPANY:
Dingzhou BEST Hardware Co,. Ltd was established in 2004. Mainly producing various nails, iron wire, mesh and sintering mesh.
Nails: roofing nails, common nails, and concrete nails and so on.
Iron wire: galvanized iron wire, black iron wire
Welded mesh,hexagonal mesh, sintering mesh, and further .
We sincerely invite you to visit our factory and make good benefits for both of us.
Note: The barb is very sharp, and the barb can easily cause serious injuries. When installing a wire fence, wear gloves for protection.
If you have any questions, please call us and get a quote about your fence project. We are here to help you meet all your needs.