PVC-coated chain link fence refers to the use of hot-melt attachment on the surface of the metal wire. An anti-corrosion process is carried out by the method of water cooling. Plastic-coated chain link fence is made of plastic-coated wire. These are the most common types of chain link fences. The inner wire adopts galvanized iron wire. The outer surface is wrapped with a layer of PE particle plastic. Ultimately achieve the purpose of anti-corrosion.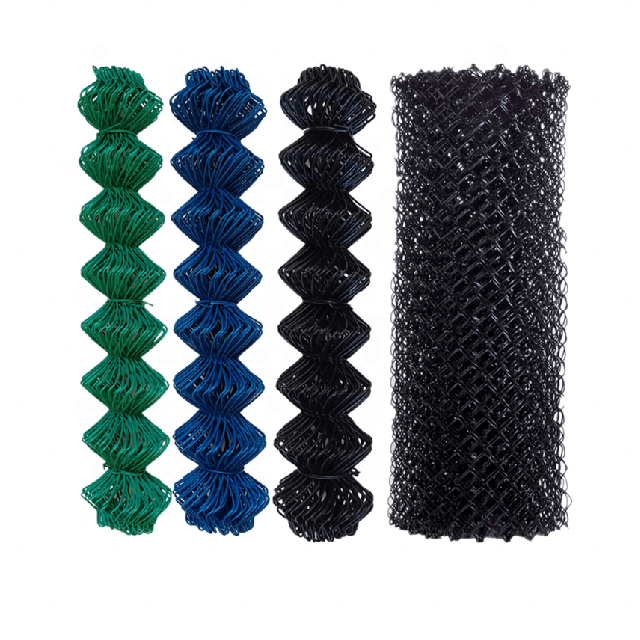 PVC-Coated Chain Link Fence Details:
PRODUCT NAME: PVC-Coated Chain Link Fence
MATERIAL: PVC wire
SURFACE FINISH: PVC coated
COLOR: Black、Green、Blue、White
USAGE: Construction
EDGE: Twisted-Twisted、Knuckle-Knuckle、Knuckle-Twisted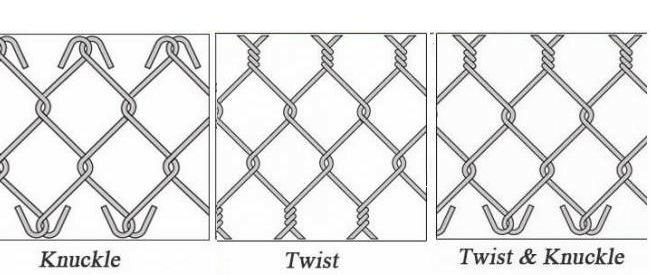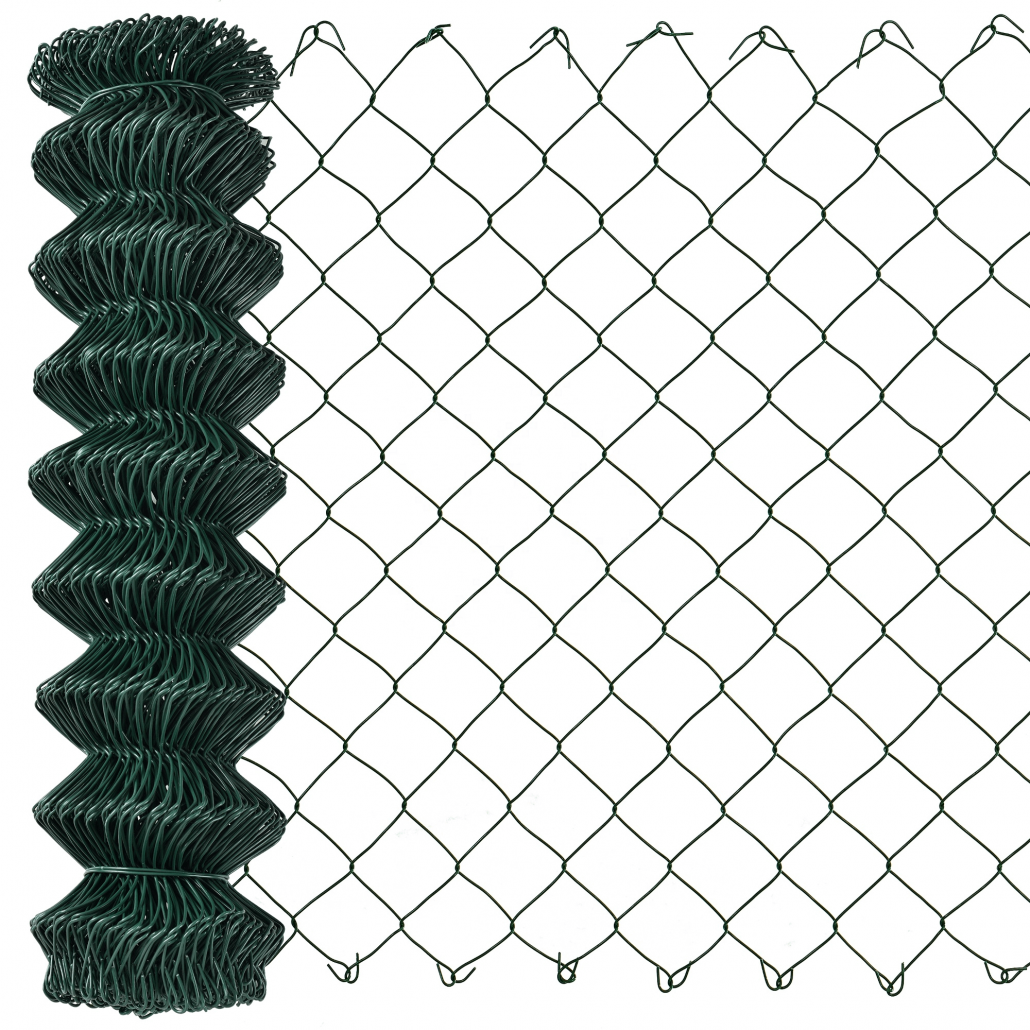 Plastic Chain Link Fence Material:
The material of PVC-Coated chain link fence is divided into two categories: PE chain link fence and PVC chain link fence.
The difference between the two lies in the raw materials.
The product type of plastic-coated hook net is made of plastic-coated steel wire. Plastic coated wire is a kind of iron wire product. The inner wire is made of galvanized wire. The outer surface is coated with pe or Pvc particles to form a plastic layer. To achieve the purpose of isolating air, anti-corrosion, and prolonging service life.
The plastic-coated chain link fence is crocheted with wrapped PE and PVC materials. The outer layer of plastic mechanically wraps the raw material around the metal wire.
PVC Chain Link Fence Process: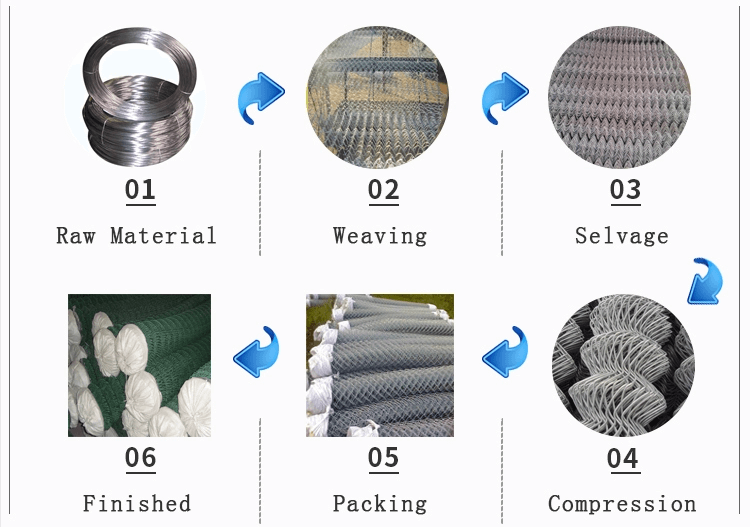 Green Vinyl Chain Link Fence Application:
1. Made of gabion net for slope protection and foundation pit support. The rock face of the mountain is hung with net shotcrete. Landscaping, blocking rail and road barriers. This also gives the wire mesh a cage shape. Capable of corrosion-resistant maintenance of rivers, dykes and seawalls, and reservoirs. Closing the river needs to put the stone into the cage and sealing it.
2. Schools or stadiums often used chain link fences. Its advantages are bright color、anti-aging、corrosion resistance、complete standard、smooth mesh surface、strong tension、not easy to be impacted and deformed by an external force、and strong impact resistance. On-site construction equipment is flexible. The appearance and standard can be adjusted at any time according to the requirements of the site.
3.Enterprise safety fence is one of the applications of chain link fence. Sturdy chain link fencing remains a popular and safe option for business owners. Especially for businesses located in remote areas or where there is a risk of wildlife entering the premises.
BEST Hardware Supplier of PVC-Coated Chain Link Fence:
Best hardware presents a well-proven, popular, versatile, cost-effective, and easy-to-erect fencing system suitable for a wide variety of applications like Perimeter Fencing, Security Fencing, Sports arenas, Tennis courts, Golf Courses, etc.
BEST Hardware fence offers you the option of Chain Link Fencing fabric made of Plain Galvanized Wire and PVC coated Galvanized Wire.
The Chain Link Fencing fabric is made from wire of varying diameters depending on the application.
PVC Coated GI Wire fabric gives an attractive appearance with its range of colors.
It also has better durability on account of its better resistance to Corrosion, Abrasion, Fading, Weathering, Peeling, Chemicals etc.
PVC-Coated Chain Link Fence is primarily available in Green color. Other colors are also possible based on buyer preferences.
BEST Hardware fence has set up its own state-of-the-art machine shop to fabricate various types of Chain Link Fencing according to customer requirements.
https://chinabesthardware.com/wp-content/uploads/2022/07/chain-link-fence-53.png
800
800
Mu, Mu
http://chinabesthardware.com/wp-content/uploads/2020/05/c428eb90cc9625a09bb6622ad86a38d4-300x300.png
Mu, Mu
2022-07-20 14:37:05
2022-07-20 14:37:09
BEST PVC-Coated Chain Link Fence 2022