3 inch construction concrete nails using special materials. Concrete nails are ordinary iron nails compared with special nails.  Concrete nails are widely used to connect wooden elements to structures, as well as soft materials to hold them in place. The structure of the nail has a circular cross-section and a flat or conical head. The roughness in front of the cap significantly improves the reliability of the connection.
Advantages:
Hard, the handle is generally short and thick.
With good penetration and fixed force. Use these concrete nails to make ideal nails and fasteners, strong and firm places
Using advanced heat treatment technology processing
with excellent resistance to bending, cracking and safety.
Surface treatment can be polished, galvanized, blackened, etc.
3 inch construction concrete nails specification:
Product name: Concrete nails
Materials: Carton steel Q195 or Q235
Length: 1/2"-10", 1/2″-10″,BWG4-20 for all kinds of round Nails.
Application: construction,packing and furniture
| | | |
| --- | --- | --- |
| Length(inch) | Length(mm) | Shank Diameter(mm) |
| 1″ | 25mm | 3.0mm |
| 1.5″ | 38mm | 3.0mm |
| 2″ | 50mm | 3.8mm |
| 2.5″ | 64mm | 4.0mm |
| 3″ | 75mm | 4.5mm |
| 4″ | 100mm | 4.5mm |
| 5″ | 125mm | 4.5mm |
| 6″ | 150mm | 4.5mm |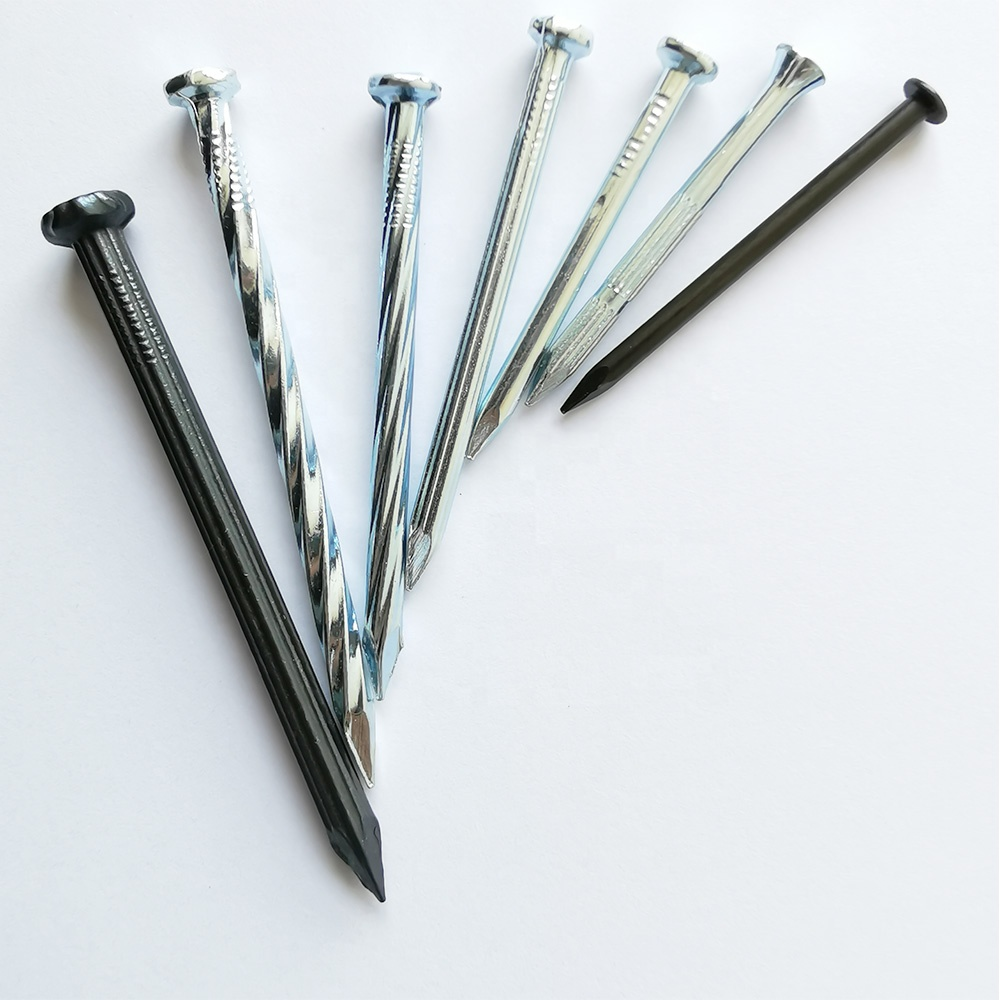 1) Material: 1020 or 1018 Carbon Steel (>0.18% C) Or Equivalent
2) Finish: Electroplate, Bright Zinc, Per ASTM-8633, Type I, SC2
3) Remove Sharp Edges Using Tumbling Or Blasting Media
4) Parts To Be Dry And Free Of Oil And Debris
5) Parts To Be Packed In 30 KG Carton Or Similar
6) Parts To Be Of High Quality To Run In Automated Assembly Equipment
Packing Detail:
Bulk packing, 25kg/ctn
Small packing: 500g/small box,50boxes/ctn
Small packing: 1kg/small box, 25boxes/ctn
Small packing:1kg/plastic bag, 25bags/ctn
At customers' special request on weight
With or without pallet