Galvanized Razor Wire Security Barrier Fencing
Razor wire and concertina wire are our feature products for security protection. Our products include razor concertina wire, flat wrap coils, welded, spiral razor wire and razor barriers security fencing. They are made of galvanized iron wire, PVC coated wire, stainless steel mesh materials. Our anti-piracy razor wire blade includes fish-hook blade, long blade, tear blade, medium blade and short blade.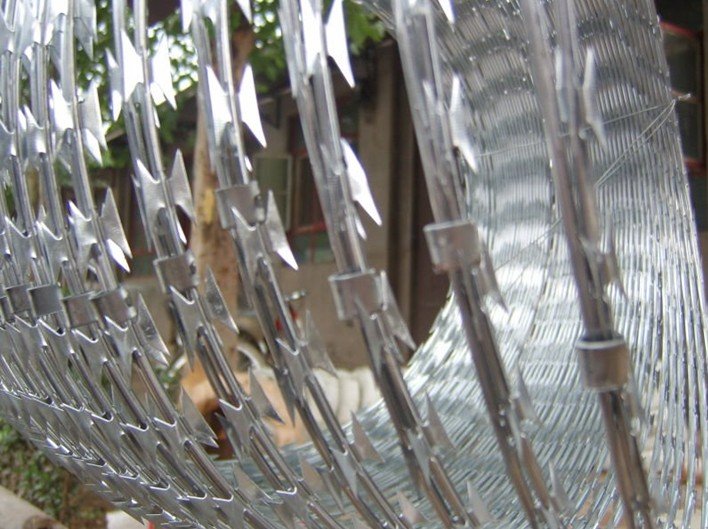 Manufacture process: First, galvanized steel coils and steel wire are prepared as the material. Then, cutting galvanized steel coils to barbed tape, after cutting, razor barbed tape tightly crimped around the steel wire forming razor wire. The following two images are the barbed tape and steel wire state of before crimped and after crimping.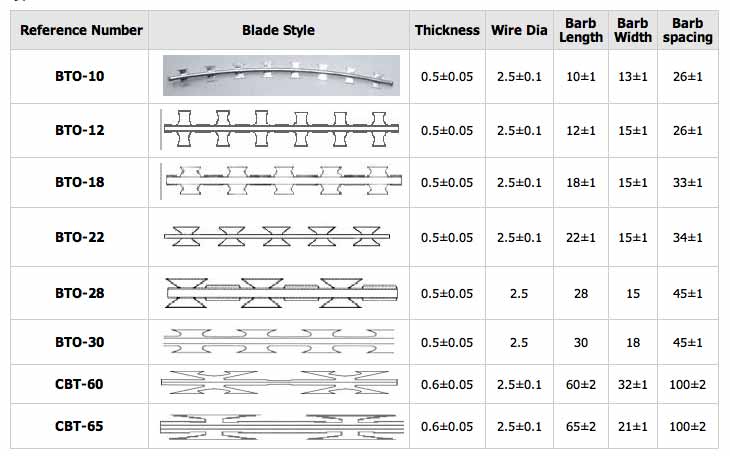 specifications:
Mobile security barriers with deploy from 75-300 m in 20-30 sec, 3 coils in pyramid shape (2 lower+ 1 upper), and heavy duty clips used to enforced spiral razor wire. It can deploy in straight, curved or zigzag line, and the razor wire coils can be deployed and recovered for many times of uses.
15 m × 450 mm razor strip rolls used for a prison.
Concertina barbed wire -galvanized wire/stainless wire: CBT-65, BTO-12, BTO-18, BTO-22, Roll with diameter 300 mm/450 mm.
Concertina barbed tape ( with heavy duty clip 23.5 mm lay 19 mm wide blades stretch distance) 12.0 m coils, coil diameter before stretching 600 mm and after stretching 550 mm.
Concertina razor coils: BTO-22, 350 mm single coil, 500 mm cross type, 600 mm cross type.
Heavy galvanized concertina tape 450 mm coil diameter, 10 meter coils.
Galvanized razor fencing wire bto22 installed on the top of a rod iron fence.
980 mm diameter stainless steel razor coil and flat concertina 900/22.
Hot-dipped galvanized single coil razor barbed wire Ø750 mm, wire diameter 2.5 mm ± 0.10 mm/thickness 0.5 mm ± 0.05 mm.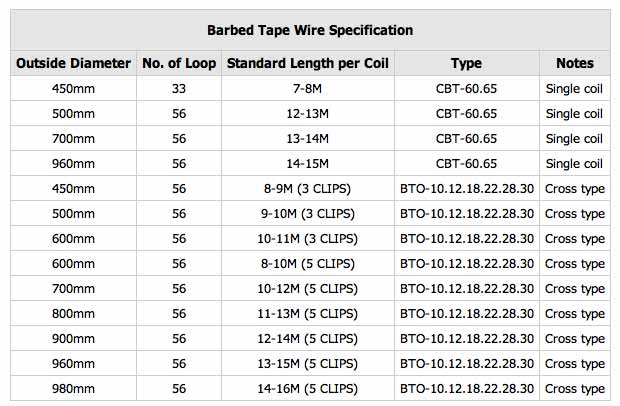 Application of razor wire
Razor wire fencing and concertina wire are ideal material to protect your fields and property. Our razor wire can be used to create effective barriers around various objects, and it is usually used in civil, military and special purpose. Our customers include military organization, electricity, water, mining industry, gas stations.
Galvanized Concertina razor wire can be installed to erect a sturdy physical barrier with varying height, width and thickness. It is common installed on the ground or on the walls, as well as on welded wire fence and chain link fence. Razor wire fence installation styles are also in this website.
From this website, you will found all information about our products: from razor wire history to specification, from blade type to mobile razor wire security barrier, from concertina coil to razor fence installation, from production process to package, from selection to application.
Packing of Razor wire
Simple packing: inside is water proof paper and outside is woven bags and then compression. It is mainly for BTO-10, BTO-12, BTO-22, BTO-30 and CBT-25.
Carton packing: razor mesh coils are loading into hard cartoon boxes, it is mainly application to CBT-65, CBT-60.