Galvanized roofing nail with washer are used for roof installation to fix shingles.Roofing felt is installed for waterproofing, and roof tiles and metal plates are fixed. There are different kinds of roof nails with rubber washers. It can made of different materials and various sizes.
All roof nails have a wide, flat head and short shank. The tip of the nail is sharp and pointed for easy insertion, so the shingles or wood will not be damaged when the nail is driven.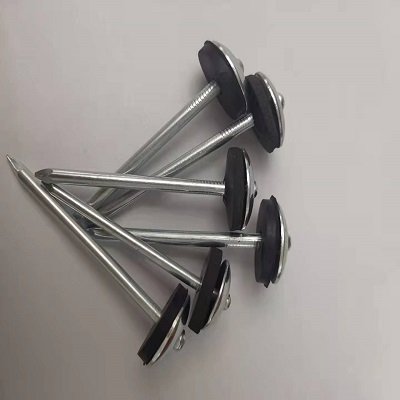 Type: smooth shank, twisted shank, ring shank.
Washer: Rubber washer, PVE washer, Metal washer, combined washer
Finish: Electro Galvanized
Color: Golden, Silver
Head Style: Flat, Checkered, Cambered
Shank Type; Screw, ring, twisted
Shank diameters: 2.5-5mm
Length: 1"-4"
Packing: inner box packing, inner bag packing…
Material: Iron, low carbon steel, Q195.
When you decide to buy roofing nails with rubber washer, you must choose the right product according to your actual needs to avoid unnecessary losses due to the wrong choice. If you want more information, please contact us.
OUR COMPANY:
Dingzhou BEST Hardware Co,. Ltd was established in 2004. Mainly producing various nails, iron wire, mesh and sintering mesh.
Nails: roofing nails, common nails, and concrete nails and so on.
Iron wire: galvanized iron wire, black iron wire
Welded mesh,hexagonal mesh, sintering mesh, and further .
We sincerely invite you to visit our factory and make good benefits for both of us.
Note: The barb is very sharp, and the barb can easily cause serious injuries. When installing a wire fence, wear gloves for protection.