Barbed wire:
Barbed wire mesh can be made of various materials, including :copper, galvanized steel, aluminum, and galvanized iron.
The main use of barbed wire is fences, especially for private houses, businesses and public properties. Barbed wire is a conductive metal wire bent into various shapes. There may be one or more metal strips between the flexible metal barbs of the barbed wire to provide gripping traction.
Barbed wire can be used to make fences, gates, walls, and other structures that help protect your cattle, goats, sheep, pigs, or poultry.
Galvanized steel barbed wire:
Galvanized steel barbed wire is a kind of galvanized steel wire designed with sharpened ends arranged in short runs along the wire strand(s) or strands.
It's primarily used to build lightweight fences, decking, and even is sometimes used to strengthen walls surrounding secured land.
This type of wire has galvanized steel bars that are galvanized at one side or both sides. The most common uses are building fences, securing and enclosing patios, retaining walls, fencing, and light poles among other things.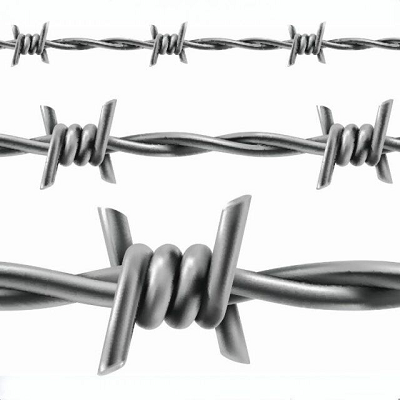 There are two types of barbed wire:
Low tension:
Low tension wire has a higher stress level than high tension. High tension wire is known for its high tensile strength. When using high tension wire to build a fence, you'll generally be using galvanized steel barb wire, which is the more commonly used kind of wire. Galvanized steel barb wire comes in two different forms – drawn and unlapped.
A drawn wire:
A drawn wire has all the ends cut parallel and an unrolled strand of this wire is drawn over the top of a drawn strand to form a complete loop.
In order to make a loop with galvanized steel barbed wire, you need to have a large cross sectional area, a sharp hook on the end of the barbed wire, and a bending iron. The loop can be bent to various shapes depending on what you need it for. Once the loop is formed, the bend is filed to help the metal stick together better. Each loop then needs to be reinforced with galvanized steel wire after it is formed. This entire process requires patience and workmanship.
OUR COMPANY:
Dingzhou BEST Hardware Co,. Ltd was established in 2004. Mainly producing various nails, iron wire, mesh and sintering mesh.
Nails: roofing nails, common nails, and concrete nails and so on.
Iron wire: galvanized iron wire, black iron wire
Welded mesh,hexagonal mesh, sintering mesh, and further .
We sincerely invite you to visit our factory and make good benefits for both of us.
Note: The barb is very sharp, and the barb can easily cause serious injuries. When installing a wire fence, wear gloves for protection.
If you have any questions, please call us and get a quote about your fence project. We are here to help you meet all your needs.