Blue concrete steel nails are our main products. BEST Hardware can provide concrete blue steel nails for various installation and fastening needs. You can find concrete blue steel nails for all sorts of maintenance, building, or hardware needs.
Hardened concrete steel nails are essential hardware tools for construction companies and the building industry. Blue concrete nails often have ribbed shanks to provide effective and secure fastening. When nailed into concrete, the grooved shank can be held and framed sturdily.
With the great holding strength, these nails provide good support for the structures being built. And they are essential tools used for renovation and home improvement projects.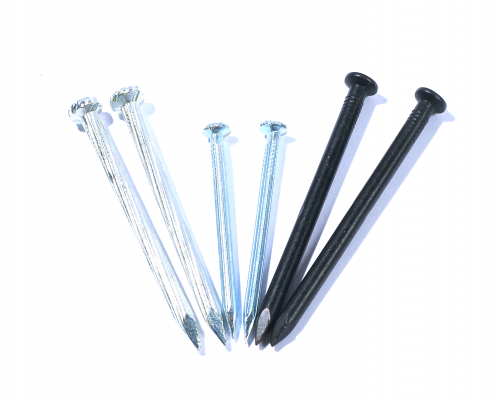 South Korea markets blue concrete nails
As you know, blue concrete steel nail with a round cut and sharp point is famous in South Korea. Korean clients prefer the blue hardened steel nails. 1-4 Inch Blue Concrete Wall Nails and Hardened Grooved Shank Steel Concrete Nails.
Brand Name: According to The Customer
Model Number :1″-4″
Certification: ISO9001
Place of Origin: Hebei, China
MOQ :10000KG
Delivery Time:15-30 Work Days
Packaging Details :1KG/Box,25Boxes/Carton;0.5KG/Box,50Boxes/Carton;5KG/Box,4Boxes/Carton Can Pallet.Or According To Customers' Requests
Length:1″-4″
Port: Tianjin port, Shanghai Port, Ningbo Port
Head Diameter :6.0mm-10.0mm
Color: Blue concrete steel nails
Usage: Industrial Construction
Shank Diameter :3.0mm-4.5mm
Product Name: Blue hardened Concrete Nails
The concrete nails are suitable for soft and hardwood, bamboo devices, common plastic walls, widely used in the industry of building decoration, etc. The different market has their own preference. Like Korea needs blue color, Pakistan needs blue-zinc galvanized color.
BEST Hardware provides high-quality concrete nails.
20 Years of experience to supply excellent service and reasonable prices for concrete nails.
The concrete nails can be customized according to your particular requirement.
Free samples for all kinds of concrete nails.
Faster delivery nearby Shanghai port and Zhapu port.
More than 24 years of experience in producing concrete nails.
As we know concrete nails are one of the most common types of nails. It is used by both professionals and amateurs. Compared with other kinds of nails, concrete nails are particularly made of special material No.45 steel. Which ensures the hardness of the steel nails.
Blue concrete steel nails are short and thick shanks. The structure of the nails has a circular section and a flat or conical head. These special features make the concrete nails have an excellent connection and fixing capacity.
Usually, the concrete nails are divided into the following types. Electro galvanized, bluish, blackish, polished, etc. Owing to the processing of advanced heat treatment technology, zinc plated concrete nails have the perfect functions of safety uses,anti-bending, and anti-crack. And, concrete nails are widely used to connect the wooden elements and cement structures, as well as fixing soft materials. Meanwhile, galvanized steel nails have strong compressive strength, they can be used in acid-resistant required places and internal structures.
| | |
| --- | --- |
| Product Name | Bluish Concrete Nail, Steel Nail, Black Concrete Steel Nails with Holland Quality, Black Surface, Strong Rust-proof, Shrink Packing, Rich Experiences, Good Supplier |
| Material | NO.45 Steel, 55# steel Blue concrete steel nails |
| Hardness | 56-58HRC |
| Type of Shank | Grooved Shank, Spiral shank, Smooth shank, Twisted shank, etc. |
| Type of Point | Diamond Point, Needle Point |
| Type of Head | Flat Head Blue concrete steel nails |
| Surface Treatment | Blue Coated, galvanized, black painted, blue-white zinc coating, blue galvanized, etc. |
| Shank Diameter | 3.0mm-4.5mm |
| Overall Length | 1″-4″ |
| Head Diameter | 6.0mm-10.0mm |
| Application | The product is mainly used for construction. |
| Package Description | 1kg/box,25boxes/carton;0.5kg/box,50boxes/carton;5kg/box,4boxes/carton Can Pallet.Or according to customers' requests |
BEST hardware can provide different types of concrete nails covering galvanized concrete nails, bluish concrete nails, and black concrete nails. Also, accept customized with various special shank types, and nail heads, we can also provide the T-word head, K-word head, and other special nails according to your requirements.
Dimension of Blue concrete steel nails
| | | | |
| --- | --- | --- | --- |
| Shank Diameter | Length | K, T Head Diameter(mm) | Head Diameter(mm) |
| 3.0MM | 1" | 6.6 | 6 |
| 3.0MM | 1.5" | 6.6 | 6 |
| 3.8MM | 1.5" | 8.3 | 7 |
| 3.8MM | 2" | 8.3 | 7 |
| 3.8MM | 2.5" | 8.3 | 7 |
| 3.8MM | 3" | 8.3 | 7 |
| 3.8MM | 4" | 8.3 | 7 |
| 4.2MM | 3" | 9.3 | 8 |
| 4.2MM | 4" | 9.3 | 8 |
| 4.5MM | 4" | 10.0 | 10 |
Producing Blue concrete steel nails in BEST Hardware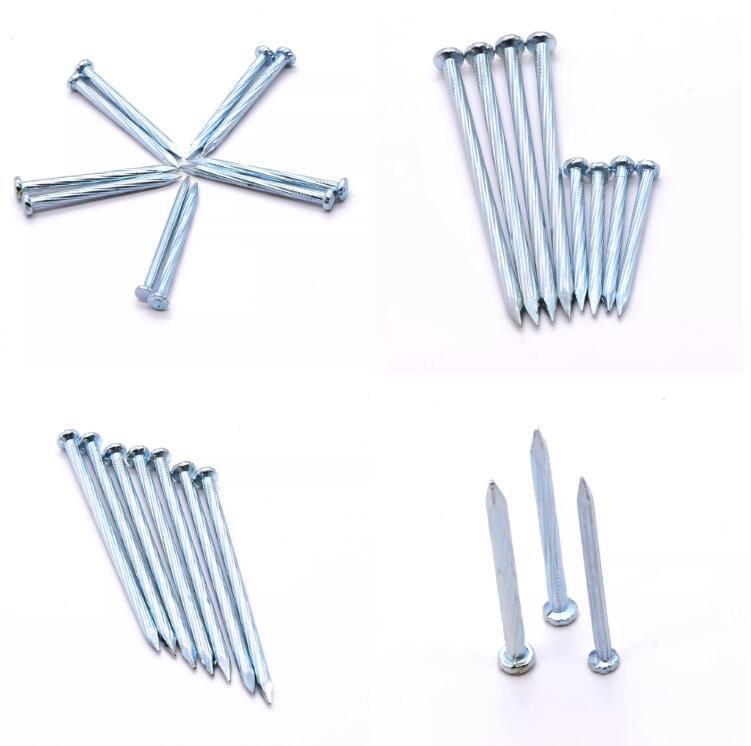 Above is blue concrete steel nail making plant. we have stock for raw materials. And high speed wire drawing machine, and high speed nail making machine.
Our team at Canton fair:Blue concrete steel nails
https://chinabesthardware.com/wp-content/uploads/2021/08/CONCRETE-NAIL-2.png
2826
2826
Dingzhou BEST Hardware Co., Ltd.
http://chinabesthardware.com/wp-content/uploads/2020/05/c428eb90cc9625a09bb6622ad86a38d4-300x300.png
Dingzhou BEST Hardware Co., Ltd.
2022-05-31 23:13:38
2022-06-14 05:07:07
Blue Concrete Steel Nails 2022